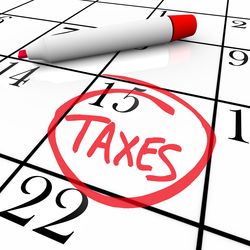 If you are like me, and for your sake I hope you aren't, but you are probably scrambling to get your tax papers filed before the looming deadline of April 15th. Well we are not alone! Did you know that that the IRS receives about 20% of individual returns in the last week before the deadline? That's roughly 30 million tax returns!
It can be complicated to get all the necessary documents together but if you follow these 5 tips, hopefully filing your taxes will be less "taxing" on you. (I couldn't help it-it was just too easy!) I must mention that I am not a tax professional so please contact one if you have any questions.
1. If you really just can't hack it before the deadline, don't worry. You can file an extension which will grant you an additional 6 months time. All you have to do is file a IRS Form 4868 free of charge.
2. If you  earned $58,000 or less this year, you can file for free using the IRS Free File system. In any case, you should try to use an electronic system like IRS e-file which is great for accuracy.
3. Don't lose out on deductions like children under 17, tuition, or large medical expenses. You can also deduct if you have a home office. Just be sure that the room is used exclusively for your work and doesn't double as a bedroom or anything else.
4. If you lost your job in 2013 and received unemployment money, it is taxable. Taxes are not withheld before you are paid, unlike a job, so don't forget about it. You may have to pay in.
5. This may sound pretty ridiculous but don't forget to sign and date your return. Of course if you file electronically you will need to sign it with a personal pin number. Can you believe that half of returns are not signed when the IRS receives them?  Probably not because I just made that up but I'm sure you wont forget now so my job is done!